Is Prefab Construction the Solution for Affordable Multifamily Housing?
With the demand for affordable multifamily housing growing – and funding scarce – new construction struggles to keep up with the need. Developers are discovering that modular construction may help to fill this gap because of its lower cost and quick turnaround. Since modular projects are replicable, they save design costs, and the process inherently reduces time since site work and building construction occur simultaneously. An added bonus is that the offsite construction process is inherently greener, keeping projects in tune with the current interest in sustainability.
A prime example is the LEED-Gold Kah San Chako Haws, or "East House" in Chinook, Oregon  – the first modular multifamily affordable apartment project in the Northwest. Currently under construction, the project is expected to take 13 months from design to completion, as opposed to the 18 months that would have been required with traditional construction.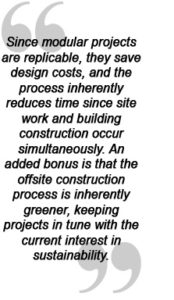 The modules for the project were constructed at Blazer Industries in Aumsville, Oregon, and trucked to Portland. Once the modules were onsite, the building went up in three days in early October. Over the next eight weeks, workers are adding interior and exterior fixtures.
According to the project's architect, Stuart Emmons, the pilot project could be replicated elsewhere, bringing down the cost. Currently running $190,000 per unit, Emmons says future projects could reduce costs to less than $150,000 per unit.
The East House is not alone in its desirability. The Seattle-based Common Ground, an affordable housing nonprofit, recently released a report investigating the possibility of using alternative cost-effective building strategies such as modular, micro-apartments or shipping containers.
Recently in San Francisco, ZETA Communities, in partnership with Panoramic Interests, built a LEED-Platinum four-story building with 23 micro-apartments. Though the units are not subsidized housing, they rank high on the affordability scale at an anticipated $900/month –- a bargain in one of the most expensive cities in the U.S.
Contact US Modular Home Builders – Your Expert in MultiFamily Modular Construction!
info@usmodularinc.com
888-987-6638
Article credit to Modular Building Institute